With Great Sadness We Announce the Passing of Bernard A. Dahlem
March 19, 2018
|
2 minutes
|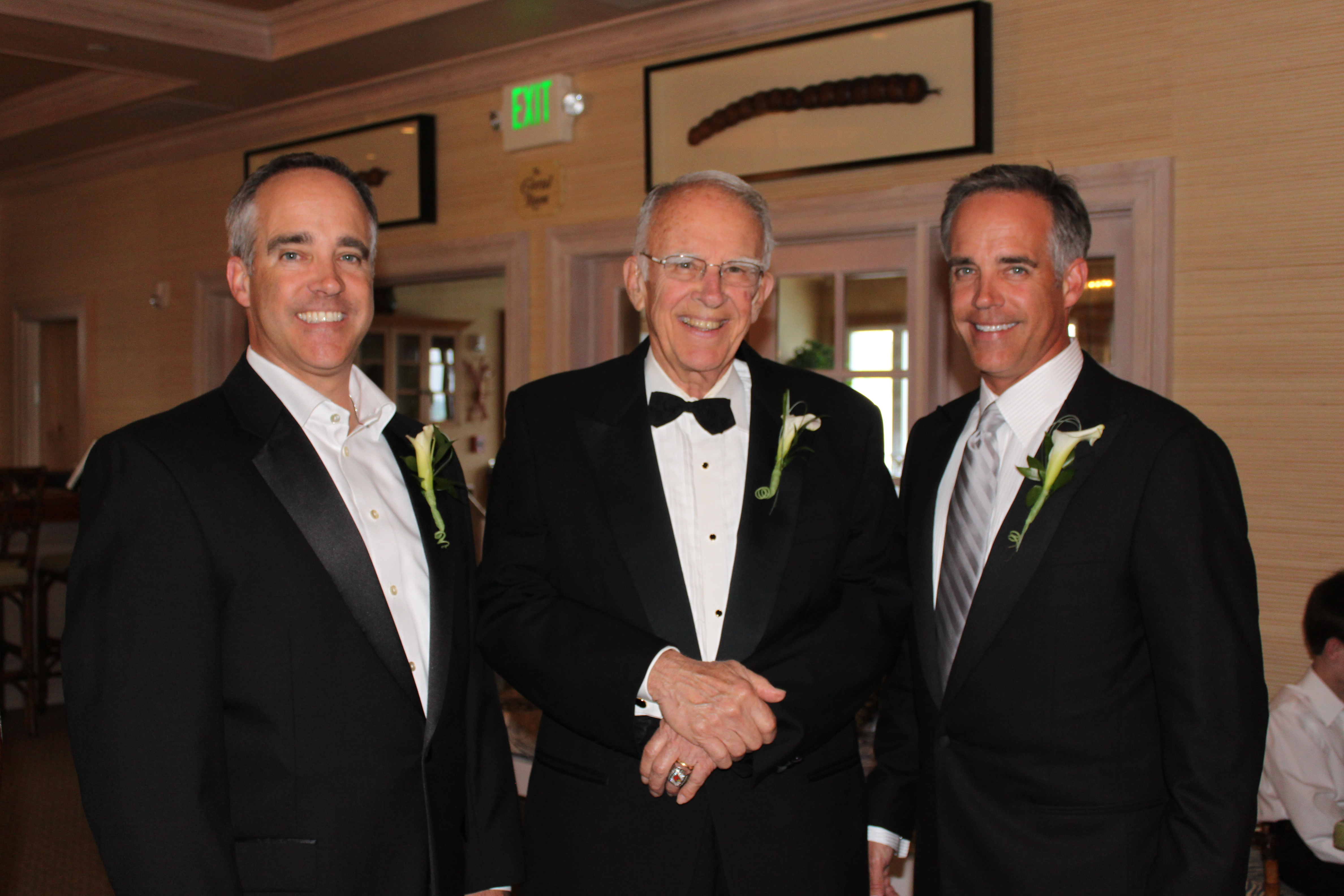 Bernard Asman Dahlem, 88, passed away peacefully on March 6, with his family by his side. He was born in Louisville, Kentucky on July 21, 1929, to Joseph Charles Dahlem and Helen Asman Dahlem.
Bernie graduated from the Kentucky Military Institute and the University of Louisville where he earned his Bachelor and Master of Science in Civil Engineering from Speed Scientific School and an honorary Doctor of Science degree.
Bernie was the Chairman of the Board of the Dahlem Company, a commercial construction and real estate company established in 1931. Bernie began his career as a civil engineer with E.I. Du Pont de Nemours in Camden, S.C. He then served as an Officer in the Civil Engineer Corps of the U.S. Navy. He later returned to Louisville as an engineer with the Dahlem Construction Company, and continued his service in the U.S. Naval Reserve.
Bernie was an Elected Fellow of the American Society of Civil Engineers, a licensed real estate broker and a licensed land surveyor. Through his affiliation with the International Council of Shopping Centers he earned the designation of Certified Shopping Center Manager, and he was the first Kentucky State Director.
Under Bernie's leadership, the Dahlem Construction Company built Actors Theatre of Louisville, Iroquois Manor, Indian Trail Square, Gar­diner Lane Shopping Center, Shelbyville Road Plaza, Bashford Manor Mall, Holiday Manor, McMahan Plaza, Wesleyan Park Plaza, buildings at GE's Appliance Park, multiple buildings for Republic Bank, and many other buildings in the region.
Bernie was President of Actors Theatre of Louisville and the Macauley Theatre, Chairman of the Louisville Fund for the Arts, a board member of Republic Bank and Trust Company, and a board member of the Louisville Chamber of Commerce.
Bernie loved the University of Louisville! He was a member of the Uni­versity of Louisville Industrial Foundation, the Board of Overseers, and was a Lifetime ULA. He was a member of J.B. Speed School of Engineer­ing's Industrial Board of Advisors, received their Professional Award for Engineering and their Distinguished Alumnus Award, and was honored as a Speed School Alumni Fellow. He was a member of the University of Louisville's first swim team coached by the legendary Ralph Wright and was inducted into the University of Louisville Athletic Hall of Fame. He was a member of the Delta Upsilon fraternity and the Tau Beta Pi Engi­neering honor society.
Bernie was a loving husband, father, and grandfather who will be re­membered as a humble man of impeccable character and integrity. He was generous in every way. He had a wonderful sense of humor, an in­fectious laugh, twinkling eyes, and a smile that could light up any room. He enjoyed working in his workshop and could fix anything. He was always helping solve the problems of others. He was a lifelong student and enjoyed sharing his knowledge with his children and grandchildren. He enjoyed golf, boating, puzzles, and traveling, especially to Germany.
He was preceded in death by his wife of 58 years, Debby Blair Dahlem, his daughter Ann Dahlem, his parents, and his infant brother.
He is survived by his wife, Colleen Garard Dahlem, his children Karen Dahlem, Blair Ivins (DeWitt), Charlie Dahlem (Lisa), and Jim Dahlem (Cathy), his grandchildren Sarah Ivins, Elizabeth Ivins, Katherine Ivins, Blythe Dahlem, Charlie Dahlem, and Kate Henderson, and his wife's children, Glee Hoonhout (Michael), Brittany Bania (J.P.), and Hillary Jackson (Ben), and their children.
The family expresses their sincere appreciation for the doctors, nurses, aides, and other staff who cared for Bernie at Bethesda Memorial Hospital in Boynton Beach, Florida, the Episcopal Church Home, Hosparus Health, and Norton Suburban Hospital in Louisville, Kentucky.
Visitation was held on Tuesday, March 13, from 3:00 p.m. to 8:00 p.m. at Pearson's, 149 Breckinridge Lane. His Mass of Christian Burial was on Wednesday, March 14, at 10:00 a.m. at Cathedral of the Assumption, 433 S. Fifth Street, Louisville, Kentucky. Burial followed in Cave Hill Cemetery.
In lieu of flowers, the family would appreciate gifts in his memory to the Helen Asman Dahlem Endowed Scholarship Fund at the Catholic Education Foundation, 401 West Main Street, #806, Louisville, KY 40202.