How this company's rebranding could bring new retail to Louisville
May 08, 2017
|
2 minutes
|
Dahlem, a full-service commercial real estate firm in Louisville, has long owned and managed its own properties here and other cities, but it has more recently put an emphasis on working with third-party clients to scout sites for expansion.
And that could pay off sooner rather than later for the Louisville market.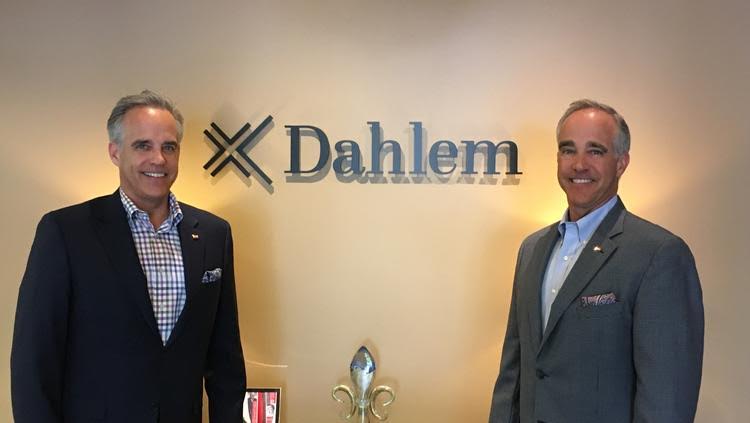 Dahlem is a small, family-owned business managed by twins Charlie and Jim Dahlem that has been around since the 1930s. The company for decades was actively involved in the construction industry, but it sold that business about two decades ago, Charlie Dahlem told me.
That has freed up the company, which has six employees in its Lyndon-area office, to focus on leasing, property management, investment sales and tenant representation.
The company recently rebranded, putting Dahlem Enterprises and Dahlem Realty Company Inc. under the umbrella name of Dahlem, which is represented through a new logo, signage and an updated website.
Louisville-based web design and creative branding agency Oohology handled the rebranding for Dahlem. Costs were not disclosed by the firm.
The brothers said the rebranding was an eight- or nine-month affair that was spurred by a desire to engage the public and potential clients on its full range of services, particularly its push to represent clients looking for new locations.
The company is working with several retailers on their expansion plans in Kentucky and Southern Indiana. For instance, Firenza Pizza — a fast-fire'd pizza chain that makes the food in front of you — recently opened its first location in Louisville, and Charlie Dahlem said the company is actively looking for additional locations in the Louisville market.
Likewise, Dahlem is scouting sites in Louisville for Indianapolis-based Shapiro's Delicatessen, a staple in Indy going back to the early 1900s. Shapiro's is looking to open an East End location, where there is a high level of office and residential traffic and a strong lunch crowd, Jim Dahlem said. The company already has announced a Cincinnati location that should open soon.
Jim Dahlem said Shapiro's Delicatessen ideally wants about 6,000 square feet for a Louisville location. The company hasn't set a firm timeline to get started here.
"They can be patient with it," he said. "They want to find the right location."
Dahlem also works closely with Texas-based Sport Clips, a sports-themed barbershop chain, on new locations in Louisville and Southern Indiana. Dahlem said Sport Clips is opening new stores in Lexington and is eying a new location on 10th Street in Jeffersonville near the new Lewis & Clark Bridge. The company also is looking for new locations in Louisville.
On the investment sales side, Dahlem just completed a $30 million deal for a large shopping center with Lowe's Home Improvement, Peebles Department Store and other retailers in Paintsville, Ky.
Charlie Dahlem said the size of the company benefits the client in these types of deals because they can provide a personal touch to every deal along the way.
Dahlem also manages about 450,000 square feet of commercial space in about a half-dozen states, much of which it owns. In Louisville, the company's portfolio includes the Clifton Kroger center on Brownsboro Road; Dahlem Center, a nearly 24,000-square-foot retail center on Eastern Parkway that is anchored by a Walgreen's; 1000 Baxter Avenue Center, a nearly 22,000-square-foot retail center in the Highlands that has a Walgreen's, Starbucks and other retailers; and Glenmary Plaza; a nearly 42,000-square-foot shopping center that includes Sherwin Williams, KentuckyOne Health, Outback Steakhouse, Subway and several other tenants.
Marty Finley covers economic development, commercial and residential real estate, government and sports business.
http://www.bizjournals.com/louisville/news/2017/04/28/how-this-companys-rebranding-could-bring-new.html